Review of Ezoic Access Now

Access Now is a program that allows websites with under 10k pageviews per month to use Ezoic tools including monetization.

I used Access Now to monetize this website – and I loved it!

Despite my enthusiasm for Access Now, I want to caution that there may be cases where it is not the right fit for a publisher.

In this article, I'll cover both the advantages and drawbacks of monetizing a website with Ezoic Access Now as neutrally as possible to help you decide whether this program is right for your website.

I'll discuss why you should probably consider using Access Now – and also why you might want to hold off. Factors to consider will include number of visitors, website growth rate, and also seasonality (what time of year it is) as well as several other considerations.

At the end of this article you'll find a comprehensive list of tools and features that you may not have known come with Access Now. Some of the tools are included as part of the setup process, but others took me some digging to discover. They range from back-end features like CDN and SSL, to design features like the layout tester, widgets, and sidebar.
What is Ezoic Access Now?
Ezoic's Access Now is a program from Ezoic that allows publishers (websites, blogs, etc.) access to many of Ezoic's features even with less than 10,000 visitors per month.

Prior to the Access Now program, most small publishers had a lot of difficulty in finding options to effectively monetize their site with ads other than Google AdSense. Since AdSense payouts tend to be extremely low, this meant this it was very difficult for small sites to earn meaningful income.

Ezoic Access Now is a game changer because it allows small sites to earn a relatively high revenue. It's also packed with features and tools that are designed to help publishers grow over time.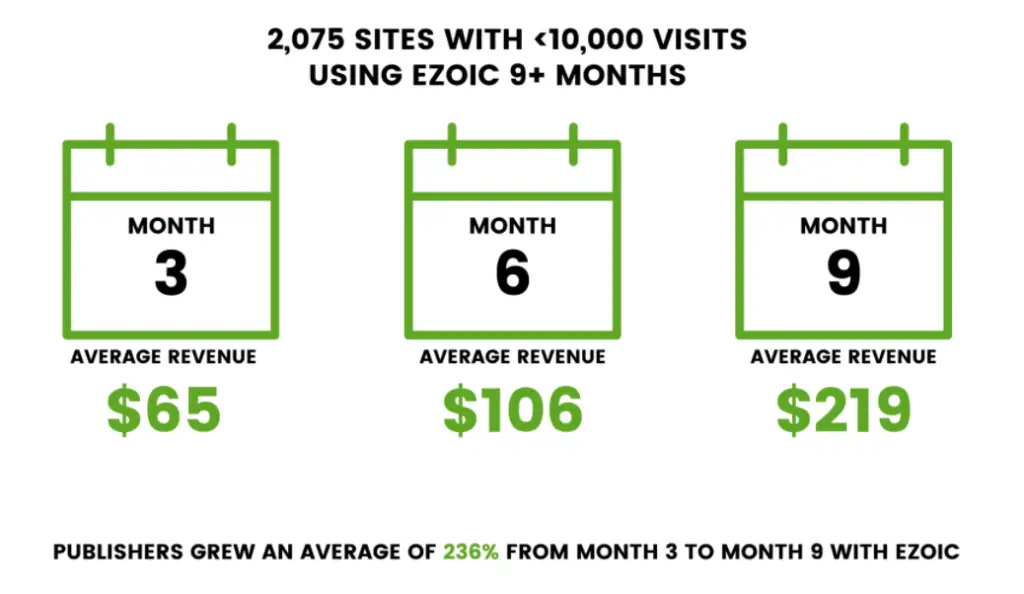 Access Now Prerequisistes
One thing I'd like to stress about Access Now is how easy it is to use. From sign-up to receiving a check, Ezoic has made the entire process as streamlined and stress-free as possible. While it's helpful to have some background in website management, this isn't necessary. I found that using the bit of knowledge I acquired in managing my own site for about one year to be more than sufficient.

That said, it might be good to have a basic understanding of concepts like web hosting, content delivery networks (CDNs), and DNS. You could probably get by without any knowledge of these topics but the more you know the easier you will find the process. Ezoic will guide you through all set-up steps but I found it helpful to know what I was doing.
Why Use Ezoic Access Now?
Running a website is time consuming and expensive.

It takes a long time and a huge amount of effort to begin to see any amount of traffic. For me, it took about 8 months before I began to see any real traffic, and around 1 year before I started seeing consistent growth.

Most web publishers give up long before their site is successful, which is unfortunate. One of the biggest issues is the cost of hosting (generally about $10/month for shared hosting). The first year of hosting is often discounted and it's easy to find offers of around $3/month for the first year, but the second year usually sees the price rise to a standard amount of about $10/month plus domain registration fees and other common costs such as backups, themes, and plugins.

The result is that many give up by the second year – right as they are about to see greater success.

That's why I think Ezoic's Access Now program is so amazing and important. Under Access Now, websites with traffic less than 10k visitors per month can monetize effectively while getting lots of other benefits from the Ezoic platform.
Access Now Features
Websites in the program have access to a wide range of Ezoic services including:
Monetization (the big one)!
LEAP (Speed optimization)
CDN cloud caching
Analytics
If you sign up for Access Now, you'll quickly find that Ezoic prevents you from accessing features until you progress through three certification courses. These include the Basic Certification Course, Monetization Certification Course, and Speed/LEAP Certification Course

At first I was skeptical of the way that Ezoic basically blocks entry before you proceed through the courses, but it turned out to be a good thing.

That's because the courses guide you step-by-step through onboarding and optimization. In other words, the courses are not 'in addition' to Ezoic integration; instead you learn as you proceed through the process of setting Ezoic up.
The Ezoic Access Now Experience
As mentioned, Access Now begins with an educational program consisting of three courses. These are the Basic Certification Course, Monetization Certification Course, and Speed/LEAP Certification Course.

These courses do require completion of quizzes to obtain the certifications and proceed. I didn't find them to be particularly difficult, and was able to open a new tab and reference the videos to answer the few questions that I wasn't sure about.
Basic Certification Course
The first section is the Basic Certification Course. This is essentially an overview of Ezoic itself: what it is (and what it isn't), how Ezoic uses AI and multivariate testing to optimize earnings and UX.

The Basic Certification also covered how to set up functions that are critical to Ezoic functionality, like changing nameservers and setting up caching, the Ezoic privacy policy, and consent management.

This section was informative as well as important and I learned more than I was expecting to. One thing I hadn't thought much about is the concept of ad dilution, which is essentially having too many ads on a page. Since things like the per-ad click through rate and impact of ad impressions actually go down with more ads on the page, those ads are worth less due to dilution. In other words, not only does having too many ads negatively impact user experience, it can actually result in earning less.
Monetization Certification Course
The monetization course covers a lot of important information including how ads are bought and sold, metrics related to monetization (including EPMV), and seasonality.

Ezoic seemed to take a lot of effort in reiterating the seasonal nature of ad rates, and created a helpful tool called the Ad Revenue Index, where you can track average ad rates for Ezoic's online publishers. This means that we have an easy way to gauge how our website is doing vs. others. It also gives us the insight we need to understand why Q4 pays significantly more and there is usually a large drop in revenue at the very end/beginning of the year.

You also continue website setup in the monetization certification course. This includes setting up the Ezoic WordPress plugin, setting up ad placeholders, learning about and integrating best practices, and setting up payment settings.
Speed/LEAP Certification Course
If you want to put ads on your website and still rank in Google, you need to do everything you can to speed your website up.

Thankfully, Ezoic has invested a huge amount of time and money into developing tools that allow you to optimize your speed. As an interrelated bonus, you can likely eliminate existing plugins that perform similar functions.

The two main tools that Ezoic gives us are LEAP and CDN cloud caching. Ezoic also integrates with CloudFlare, the most popular CDN, and will augment its' performance.

LEAP itself contains a ton of tools designed to help measure and optimize site performance. The Speed/LEAP certification course guides you through this process, helping publishers better understand their websites and make them faster.
What Happens After Completing the Access Now Certifications?
After you complete the certifications you will have access to a wide variety of tools and settings that can be extremely beneficial.

For example, LEAP recommended a number of optimization options that were not part of the initial setup.

Even more importantly, Ezoic begins optimizing as soon as ads are displayed on the site. This means that you can expect earnings to increase while you are in the Access Now program instead of having to wait until you achieve Level 1.

In the next section, I'll go through some of the benefits that I personally found to be the most helpful and exciting.
Benefits of Ezoic Access Now
Earn money with a small website
This one is the most obvious; Access Now allows you to start earning money regardless of how many visitors you have. The payout might surprise you; my starting EPMV (earnings per milli visitors) was much higher than I expected.
Learn About and Use Ezoic Tools
We've already covered some of the tools that comes with Ezoic. Suffice it to say that there is a lot to learn and implement. One of the reasons I decided to start with Access Now was that I wanted to get the ball rolling and use these tools before I was eligible for Level 1. This meant that by the time I was accepted to Level 1, I already had a good understanding of how everything worked and what I could look forward to.

The more you do in Access Now, the greater your changes of success will be in higher levels.
Start Optimizing the Ezoic Algorithm
One of the best benefits about Access Now is that Ezoic starts optimizing its' algorithm from day one. This was one of the main factors I considered when deciding to sign up for the program.

You might decide to wait until you have more visitors (I cover why you might want to wait later in this article). But you should also weigh those considerations against the benefit of time spent performing this optimization, when earnings are likely to be low regardless of visitors.
Access to grants
Ezoic has grants available for every level including Access Now.

There are two types of grants that Access Now members can apply for. There is a $100 grant that requires two weeks of ad integration, and a $150 grant that requires two weeks of ad integration with charity ads turned on. Charity ads essentially post ads for charity in ad spaces that weren't bid on.
Access Now vs. Ezoic Levels
Why You Might Not Want to Use Access Now – Yet
All of these benefits sound amazing so you might be wondering "what's the catch"?

There are a number of reasons that you might decide not to jump into the Access Now program. Here's my unbiased report on these negatives and how they might influence your decision-making process.
Ezoic Ads Could Slow Down Your Website
You already knew that, right? But did you know how slow they might make your site?

Before integrating Ezoic, my site routinely achieved speed scores of 99% for both Desktop and Mobile devices. After integrating Ezoic ads, my site slowed significantly and my current scores trend between 70% and 90%. This was worse than I was expecting, and it may have resulted in compounding effects that I will cover in the next two drawbacks of Ezoic.

Before that, I do want to mention one positive which helps offset this speed issue: thanks to Ezoic, I can afford better hosting which will help improve my speed again. I have also become much more conscientious of my site and am doing everything I can to reduce load times. In other words, I have become a better website owner by necessity.
Ads and Speed Impact User Experience (UX)
This should be obvious; the more ads a web page has, the less enjoyable it is from the perspective of the publisher.

What I wasn't expecting was the psychological impact ads on my own website have on me. My website went from something where I had created everything, to being interspersed with ads and content not of my own creation. I had to learn to let this go, which was harder than I though it would be.

But this also made me more conscientious of user experience (UX) than I had previously been. Similar to my experience with website speed, I now take UX more seriously than I had previously. I want to maximize the UX that I can control so that my site is enjoyable even with ads.
Site speed impacts Google rankings
Site speed impacts Core Vitals, which are direct ranking factors in Google's algorithm. It also likely factors into the algorithm in indirect ways as well, because it influences things like user experience, bounce rate, time on page, and many other factors.

It is difficult for me to quantify the impact on my website but I can give some details that might be helpful. When I signed up for Ezoic I had achieved roughly 100% pageview growth for 3 months prior, and an average of 78% growth for 6 months prior. This growth seemed to halt almost overnight, which may or may not have been due to Ezoic integration (it could also have been a seasonable effect). After two months with Ezoic I am now happy to see signs of growth again.
Seasonality has a dramatic effect on earnings
I was very happy that I signed up for Access Now in early December because I was able to earn a higher amount than I was expecting. In general, publishers can expect for earnings to increase throughout the year, up until a steep drop-off at the end of the year and on January 1st. We can see this in the Ezoic ad revenue index. Note the steep end of year declines in the image below: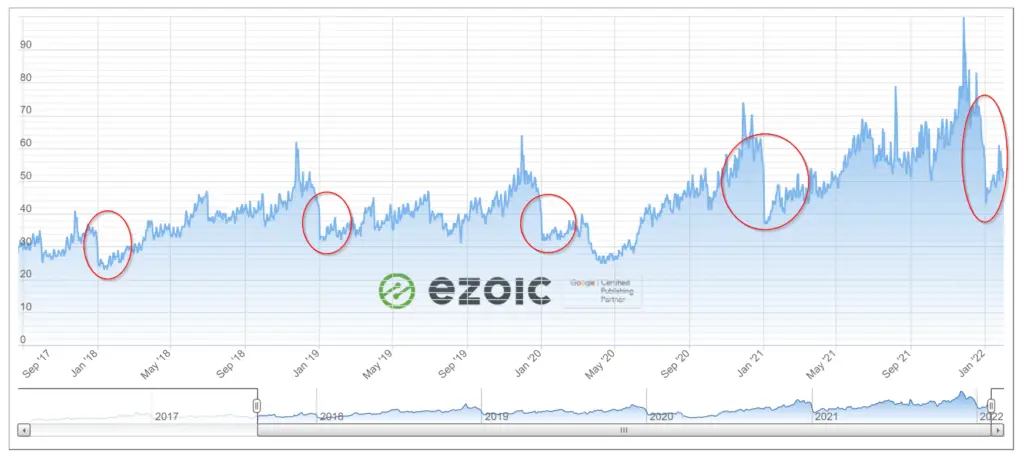 What this means is that the benefits vs. drawbacks of signing up for Access Now might depend on when you sign up. There is probably a stronger case for Access Now toward the end of a calendar year than there is at the beginning. This is not Ezoic's fault but may be something to consider.

Another factor to consider regarding seasonality, is that depending on your own website's content type, you may be looking at higher or lower numbers of visitors as well as EPMV. For example, a site that focuses exclusively on end of year or holiday-related products or sales will likely be even more affected by seasonality issues. If you are in a Christmas niche, for instance, you might consider holding off on signing up for Access Now in January considering your natural traffic and EPMV probably drop significantly more than the average site's in the beginning of the year. By holding off on registering for Ezoic, you would maximize your growth rate by maintaining higher site speed and user experience (UX).
Things I Wasn't Expecting When I Signed Up For Access Now
There were a number of things that I wasn't expecting when I signed up for Access Now. These aren't necessarily positives or negatives – just things I might have been interested in knowing prior to signing up.
Time to Ezoic Approval
After completing the onboarding process, it took four full business days for me to receive my approval and for ads to begin appearing on my website.
The Access Now Courses Guide You Through Install
When I signed up for Ezoic I was eager to learn but also a bit confused about why I needed to proceed through the courses. It quickly became clear that the courses are there both to educate and also facilitate onboarding and optimization.
How Much Money I Would Make
I was originally very concerned about EPMV, and spent hours looking for other users' experience or anything that could help me gauge how much money I would actually be able to make. Some publishers seemed to earn a lot, while many seemed stricken by extraordinarily low EPMVs of less than $1 or $2.

You can imagine my pleasant surprise when I achieved an EPMV of $5.92 on my very first day. To be fair, this was in early December – the highest performing time of year for most online publishers – but it still felt great.
Elimination of Existing Plugins
One thing I definitely wasn't anticipating was the ability to eliminate several existing plugins. These included my caching and speed optimization plugins, but I also decided to remove Google Analytics as well.

Removing these plugins have helped me trim down my website substantially while maintaining all of the functionality that I need.
Removing Google Analytics
This one deserves its' own subsection because I used to live by Google Analytics. But when you use the Google Analytics wordpress plugin it adds javascript that can slow down your website.

Once I got used to the Ezoic analytics platform, it become easier to give up my addiction to Google Analytics. The two didn't match up perfectly and I am still able to get Google data using the Search Console.
You need to sign up for Google Ad Manager
This is definitely a minor issue but something I wasn't necessarily expecting. It's pretty self explanatory; in order to use Ezoic to display ads, you have to sign up for Google Ad Manager. It's easy and takes just a few minutes.
Full List of Ezoic Access Now Features
In addition to the most important tools and features that come with the Access Now program, there are many other helpful things that I wasn't expecting.

I've tried to put together a complete list here:
Monetization
LEAP
Analytics
Installation guide (install as you progress through course content)
SSL
Privacy features – Privacy policy, GPDR, and CCPA
SEO Tag Tester
Ezoic video platform
Design tools – Layout tester, AMP converter, and PWA converter
Other design tools – sidebar, widgets, etc.
WordPress hosting
Conclusion
Overall, my experience with Ezoic Access Now has been extremely positive. I definitely recommend it for publishers who want to monetize and start the process of learning the Ezoic tools and optimizing setup as well as the Ezoic algorithm.

The primary drawback to consider is site speed, which is not specific to Ezoic. If you have an extremely young and/or small website, you might want to consider holding off for some time to allow your site to rank a bit higher, faster. Also consider the effects of bloat – it's much easier for a smaller site to reduce reliance on things like plugins or even fonts that decrease site speed. Finally, consider the effect of seasonality; you probably won't lose out on as much revenue in the beginning of the year as you would toward the end of the year.

One other thing to keep in mind is that if you are 'just trying' Ezoic, the more you integrate your site with Ezoic, the more work you'll need to do if you want to leave. I personally have no current desire to try another ad network, but this integration aspect is something to consider.

In my opinion, the question of joining Ezoic Access Now is not 'should I or should I not' but 'when should I'. In general, Access Now is an excellent program to help smaller sites begin capitalizing on all of the hard work that we do.
Articles Related to Ezoic Access Now
Ezoic Breakout Brand Certification