Metal Film Resistor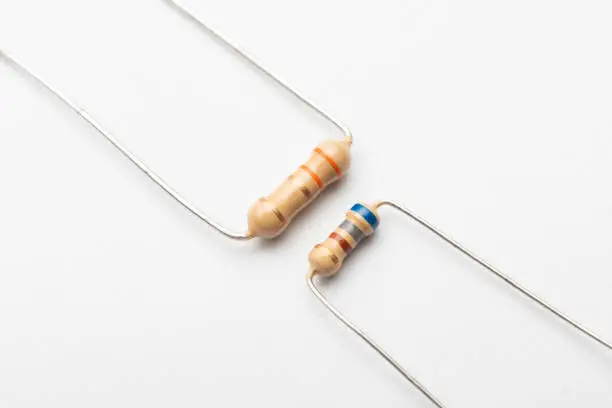 The metal film resistor is one of the widely used types of resistors in electronics due to their superior performance. Since they were first introduced in the 1960s, they have continued to gain popularity and are known for their accuracy.
These resistors use a metal or alloy as a resistor material, work better than most other resistors, and are more dependable. As such, metal film resistors are often used as a replacement for other types of resistors.
This article will tell you what you need to know about metal film resistors, including their working, construction, types, properties, application, etc. Read here to find out all you need to know about metal film resistors.
What is a Metal Film Resistor?
The metal film resistor is a type of electrical resistor made with a thin metal film coating a ceramic body. The resistance value is dependent on several factors including the metal film that is used. Altering the path length, thickness, and width can also change the resistance, resulting in a resistor with high precision.
Metal film resistors are a bit more expensive than other types of resistors due to the cost of manufacturing. The production of a metal film resistor is done in such a way as to increase its precision and accuracy. The specific method of manufacturing metal film resistors is discussed later in the article.
Metal film resistors can be used in filters, precision circuits, and applications that use timing technology. They are easy to install in most household appliances and play an important role in the electronic industry due to their high-precision application.
The metal film resistor can be pre-aged for stability, and the metal is protected with a covering to ensure long-term use, making them a popular choice among resistors.
Metal Film Resistor Construction
Metal film resistors are manufactured by vacuum deposition of a metal layer on the high purity cylindrical rod in a process called sputter deposition. Metal can also be deposited onto the core by artificially aging it at low temperatures for an extended period, resulting in better accuracy for the resistor.
The metal most commonly deposited on the core is Nickle Chromium (NiCr); however other alloys such as tin and antimony, tantalum nitride, and gold with platinum are also used for specific applications. Each type of metal has its' own unique properties, as does the resistor's insulating core.
The accuracy and resistance of the resistor depend on the thickness of the metal film. The thicker the metal film deposited, the greater the accuracy. However, the thicker the material, the lower the resistance. Helical cuts can later alter resistivity in the metal film to increase the resistance. A thickness between 50nm to 250nm is considered optimum.
Both ends of the resistor are then pressed with a metal cover that is lead incorporated to allow an electrical connection to be made, and the resistance of the film is altered by making helical cuts using lasers. In the past, sandblasting and grinding techniques were used to achieve this task, but lasers have made it easier and more accurate.
Making helical cuts on the film increases the length of the metal and reduces the current carrier's width while maintaining the film's optimum thickness.
The resistor is then covered with several protective coating layers consisting of a resin, and each layer is individually baked on. The coating protects the resistor from moisture and physical stresses.
The resistor is then marked with color-coded bands or texts to indicate tolerances. Metal film resistors are available with tolerances of 0.1, 0.25, 0.5, 1, and 2%. The temperature coefficient of resistance (TCR) is usually between 50 and 100 ppm/°K.
Types of Metal Film Resistors
There are different types of metal film resistors based on their application and specialized function.
Metal Oxide Film Resistor
Metal oxide film resistors area fixed value, axial resistors made by coating ceramic rod with a thin film of metal oxide, such as tin oxide. These resistors are mainly chosen for their high endurance application as they can operate at temperatures as high as 840°F.
The deposition process in metal oxide film resistors involves reacting pure metal with a gas at high temperature and low pressure. First, a thin metal film is applied to the ceramic core and then reacted with oxygen. This is followed by helical cuts and lead incorporated caps placed on the resistor, similar to what we read about before.
Foil Resistor
A metal foil resistor involves a thin layer (several micrometers in thickness) of foil. Usually Nichrome mounted on a ceramic carrier with high heat conductivity. The metal foil has a low TCR value (around 1ppm/°C), low noise, low capacitance, and good longer-term stability. A low TCR value means that the resistance varies only slightly with changes in the surrounding temperature.
Thin Film Resistors
Thin film resistors are made by depositing a thin layer of metal on a ceramic base, around 0.1µm thick. Thin-film resistors are often made with varying layers of thickness to provide a wide range of resistance values.
Thin Film Resistors are usually used for precision application as they have high tolerances, low TCR values, and low noise. They are often used in medical equipment, audio installations, measurement devices, and precision control.
Thick Film Resistors
Thick film resistors are the most used type of resistors in the electronic industry. The resistive material in thick film resistors is a mixture of binder, carrier, and metal oxides. The thickness of a thick film resistor is around 100µm, 1000 times more than thin-film resistors.
The resistive layers are added in sequence on top of one another. Thick film resistors have a high TCR value of about 50-2000 ppm/°C. Thick film resistors have a low cost, which is why they are preferred in applications that allow high tolerance values, high TCR, and low stability.
Thick film resistors can also handle more power, providing a wider range of resistance values and making them applicable in high surge conditions.
Properties of Metal Film Resistors
Metal film resistors have the following properties:
Metal film resistors have good heat resistance, capable of working at a temperature of 70°C to 155°C
The rated powers of metal film resistors are 0.125W, 0.25W, 0.5W, 1W, 2W, 10W, 25W, and so on.
The precision resistance value of a metal film resistor can be adjusted using the pattern method, reaching an accuracy of ±0.5% and ±0.05%.
Metal film resistors have good voltage stability and a small temperature coefficient value
Metal film resistors have a wide range of working frequency and low noise and can be used in high-frequency circuits
Metal film resistors have a wide application, suitable for AC, DC, and pulse circuits.
The performance figures of different parameters of metal film resistors are summarized in the table below:
Table 1: Metal Film Resistor Performance
| | |
| --- | --- |
| Metal Film Resistor Parameter | Metal Film Resistor Performance |
| Tolerance Availability | ±0.1%, ±0.25%, ±0.5%, ±1%, ±2%, |
| Value Range | <1Ω – ~10MΩ |
| Load Life (% Change over 1000h) | 1 |
| Max noise (µV/V) | 0.2 |
| Temperature Coefficient (ppm/°C) | ±50 – >±100 |
| Voltage Coefficient (%/V) | 0.0 |
| Maximum Resistor Temperature (°C) | 175 |
Metal Film Resistor Advantages and Disadvantages
Advantages
High performance: Metal film resistors have high precision. The thickness of the film is easy to adjust, making it suitable for a wide range of applications.
Low Thermal Noise: Noise is an unwanted phenomenon for resistors due to the movement of electrons. As temperature increases, the movement of electrons increases, and hence, noise increases.Since the temperature coefficient of resistance in metal film resistors is low, it can withstand changes in surrounding temperature without increasing electron movement. This makes them ideal for use in precision circuits.
High Stability: Metal film resistors use a high purity ceramic core coated with resin. This prevents oxidation and makes it resistant to vibration and shock, increasing stability.
High Power Rating: High power rating allows the resistors to be used in applications requiring high power.
Disadvantages
Expensive: Although metal film resistors are on the cheaper side of resistors, they are still more expensive than other resistors, such as carbon film resistors.
Limited Power Rating: The power rating of metal film resistors makes them suitable for most home-based and low power industrial applications. However, for bigger appliances requiring a greater power rating, a wire wound resistor is preferred instead.
Maintenance: Metal film resistors must be maintained, cleaned, and examined regularly to ensure they are working correctly.
Low-Temperature Working: Metal film resistors can not operate at temperatures above 200°C.
Limited Parasitic Capacitance: The limited parasitic capacitance of the metal film resistor makes it unable to work at frequencies above 100MHz.
Metal Film Resistor Inductance
An inductor is a passive electronic component that stores energy in a magnetic field and consists of a wire loop or coil form. Because a metal film resistor consists of a helical coil wrapped around an insulating core, it will have some inductance that may negatively impact behavior. The inductance is directly proportional to the number of turns in the coil.
Inductance refers to the electrical properties of conductors by which an electromotive force is induced in the conductor when a changing electric current passes through it. Inductance can be enhanced by coiling the conductor, and an inductor can be made at home simply by coiling a wire. Since resistors are made of conductive materials, inductance can be exhibited by them too.
Inductance in the resistor does not affect a DC significantly significantly because the current does not change. However inductance does impede the flow of alternating currents in an AC circuit. This induction is generally an unwanted side affected when it comes from a resistor and is referred to as "parasitic inductance."
The impact of parasitic inductance at a given frequency from the resistor can be found by calculating the inductive reactance (XL):
Here, f is the frequency of the alternating current and L is the inherent inductance of the resistor. We can see that the inductive reactance is proportional to the inductance as well as the frequency. At higher frequencies, it becomes increasingly important to choose resistors with lower values of inductance.
Despite the inherent inductance in metal film resistors, the actual inductance value can be carefully controlled by thoughtful resistor design. For example, the metal path can be cut in a pattern that results in little to no inductance instead of a simple spiral. This allows for metal film resistors to be ideal for AC circuits.
Metal Film Resistor for Audio Applications
Audio equipment requires a careful selection of resistors to minimize the noise and distortion in a single path. Noise can be characterized into two types, thermal and current noise. While thermal noise is almost similar in any type of resistor and is independent of resistive material, current noise is directly related to the resistive material.
Noise in a resistor is measured using the Noise Index, the lower the noise index, the lower the level of current noise in the resistor. Wire-wound resistors are known to have the lowest resistance of below -40dB. Thick film metal resistors have the highest amount of noise of -20 dB to 0DB, while thin-film metal resistors have a high noise of -40dB to -10dB.
The reason for metal film resistors exhibiting noise is discussed later in this article.
Although some thin-film metal resistors can be applicable in small audio equipment, the increased noise is metal film resistors, coupled with their limited power rating of up to 3W, making them less ideal to use in larger, high-end audio applications.
Metal Film Resistor Noise
As discussed previously, metal film resistors have low thermal noise. Noise is attributed to the movement of electrons in materials which increases with an increase in temperature as the electrons move faster. Since these vibrations are in random order, it is referred to as noise. This is called thermal noise or Johnson noise.
Since metal film resistors have a low temperature coefficient of resistance, they can withstand changes in surrounding temperature without altering the temperature inside the resistor. This results in less movement of electrons in the material, leading to low thermal noise.
However, metal film resistors do exhibit current noise. Current noise is inversely proportional to frequency. Metal film resistors have a low-frequency range of <1Ω – ~10MΩ, which results in increased current noise in the resistor. Similarly, as wire-wound resistors have the poorest frequency, they generate the lowest noise.
Metal Film Resistors vs. Carbon Film Resistors
Carbon film resistors are made using high purity carbon to be deposited on a magnetic rod or ceramic core, forming a crystalline carbon film. A notching process is used to change the thickness of the carbon film to alter its resistance. The surface is then coated in epoxy resin.
Whereas metal film resistors use a vacuum deposition method or sputtering method to form a metal film on the ceramic core. The resistor is cut helically using lasers to increase precision. This kind of resistor has higher precision, smaller size, and high cost.
This shows the manufacturing methods of the two resistors are inherently different. However, there are many other differences between the two, as discussed below:
Temperature Coefficient of Resistor: Carbon film resistors have a negative temperature coefficient (between ±200 – >±1500 ppm/°C), while metal film resistors have a slightly positive temperature coefficient.
Resistance Accuracy: Metal film resistors have a higher resistance accuracy and are more precise than carbon film resistors, which have resistance accuracy of 2% to 5%.
Voltage Coefficient: Metal film resistors are more stable, with a voltage coefficient of 0.0%/V, in comparison to carbon film resistors, with a voltage coefficient of 0.0005%/V.
Noise: Carbon film resistors have a low TCR and VC value, causing them to generate more thermal and current noise than metal film resistors.
Resistor Color: Due to their simpler manufacturing style, carbon film resistors are often khaki or even sometimes pink in color. Metal film resistors are most often blue.
Applications of Metal Film Resistors
Metal film resistors have become standard for leaded resistors due to their high tolerance, long-term stability, good temperature, voltage coefficient, and performance. However, due to their size, they are not suitable for applications experiencing surge transients. Nevertheless, metal film resistors are used in many different applications.
They are used to protect sensitive electronic components from dangerous voltages.
They are used in automotive electronics
They are used in computer circuitry
They are used in industrial equipment to protect equipment from over-heating.
They are used in many consumer electronics, such as mobile phones and laptops. They help prevent overheating and work at high power levels for extended periods.
Metal Film Resistor Symbol
Generally, metal film resistors are not identified by a specific symbol in circuit diagrams or schematics. They are generally depicted like other resistors using a rectangular box or the saw-like pattern that tries to symbolize the back and forth path followed by current in the resistor.
However metal film resistors can often be identified visually or in a parts list.
Metal Film Resistor Identification
Metal film resistors are often prefixed with an "MFR" notation followed by their resistive values, e.g., MFR100kΩ. This can help when identifying the type of resistor in a parts list. The body of the resistor may also have identifying markings or features that allow you to look up the resistor using a search engine.
Metal Film Resistor Packages and Tolerance
Metal film resistors are available in different packages and tolerances. They can be axial, surface mounted, and heat-sinkable. They can be relatively low or high precision and feature low or high values of inductance or capacitance.
In Conclusion – Metal Film Resistors
Metal film resistors are one of the widely used leaded resistors used in the electronic world for various purposes, from industrial equipment to home appliances. Metal film resistors are especially popular due to their reliability. Metal film resistors mainly operate between 20-80% of their specified power rating for long-term stability.
However, in certain conditions, such as in humid environments or in circuits that experience voltage surges and power overloads, the reliability of these decreases even if used at lower than 20% of the power rating. So be careful how you use them!
This article covered the definition, construction, application, advantages and disadvantages, and properties of metal film resistors. Hopefully, you now understand the workings of a metal film resistor and can compare which kind of resistor you would want to use for a specific task.